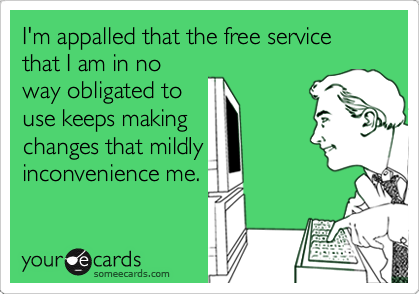 Mark Zuckerberg's keynote at the fourth f8 conference introduced some major updates to Facebook, which many people seem to dislike.
Timeline
The timeline has been described as the heart of the Facebook experience. It provides a space for all your stories, all your apps and a new way to express who you are. It is a stream of information about you containing your photos, your status updates and even has places that you have visited shown on a world map.
The timeline allows you to tell all the important stories of your life on a single page. It allows you to control what you show, how you display it and who can see it.
Check out the new timeline here.
Timeline is in beta and Facebook users will have to opt in to start. Eventually though, it will become the new default profile page. If you would like to use the new timeline right now follow these instructions.
I have already changed mine.
Facebook gestures
You will now be able to connect to anything you want in anyway you want other than just 'liking' it. You can now read a book, or eat a meal, or listen to a song. Facebook will roll out the "watched" "listened" and "read" buttons. Developers will also be able to make their own actions.
Ticker
You can now share stuff without annoying your friends. The ticker will provide an avenue for all 'lightweight' information. There is a lightweight stream on the side of your screen, which provides a real time update of what your friends are posting on their Facebook pages.
Things like change in relationship status or photos from your wedding will still appear in your newsfeed, but the new level that your friend has reached in Cityville, or Mafia Wars or what you planted in Farmville will now only appear in your ticker.
Here is some advice from Beth Kanter for anyone concerned with privacy and new changes on Facebook.
Apps
Remember how apps had to ask you every time they wanted to share information about you on your timeline? Now they'll only have to ask once.
The first time you authorise the app, a new Facebook permissions screen explains exactly what type of stories will be shared. Once completed, it will no longer have to ask for permission.
You should be sure what you're signing up for; know exactly what you're giving Facebook access to.
Movies, Music and News
You can watch a show on Hulu (in USA and Japan), listen to a song on Spotify ( in Finland, France, Norway, Netherlands, Spain, Sweden, United Kingdom and United States), or check out a story on Yahoo News .
The ticker will tell you what your friends are watching, listening to or reading, allowing you to share the experience with them by clicking on a link.
Here are some FAQs about the new Facebook that may help answer some of the questions that I have not already answered in this post.
I really like the new features on Facebook. I'm just disappointed that some of the services like Hulu and Spotify are not available in Kenya. What do you think of the new changes?